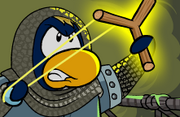 Prepare thyself! The Medieval Party 2012 has arrived! Will you be a pretty princess, a knight, or a wizard? Will you save, or destroy the city?Gary The Gadget Guy will come to this party along with a new Background so start your searching note: the medieval party 2012 is now over.
The
Mideval Party 2012 was the Best of any other year so far.
Ad blocker interference detected!
Wikia is a free-to-use site that makes money from advertising. We have a modified experience for viewers using ad blockers

Wikia is not accessible if you've made further modifications. Remove the custom ad blocker rule(s) and the page will load as expected.