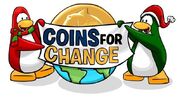 Coins For Change is an in-game charity fund-raising event which first appeared in 2007. The fund-raising lasts for approximately two weeks each December, during which time players can donate their virtual coins to three charitable issues: Kids who are sick, the environment, and kids in developing countries. Players donate in increments of 100, 250, 500, 1,000, 5,000, or 10,000 virtual coins. At the end of the first campaign, the New Horizon Foundation donated a total of $1 million to the World Wide Fund for Nature, the Elizabeth Glaser Paediatric AIDS Foundation, and Free the Children. Over one million dollars were donated by two-and-a-half million people. In 2008 one million dollars was donated by two-and-a-half million people. In 2009, Club Penguin donated $1,000,000 Canadian dollars to charitable projects around the world. Over 2.9 million players participated globally, using over 4 billion of their virtual coins to vote for their favourite cause. In 2010, Club Penguin donated $300,000 towards building safe places, $360,000 towards protecting the Earth, and $340,000 towards providing medical help. Players on Club Penguin donated over 12 billion virtual coins and filled Club Penguin's Lighthouse.
Ad blocker interference detected!
Wikia is a free-to-use site that makes money from advertising. We have a modified experience for viewers using ad blockers

Wikia is not accessible if you've made further modifications. Remove the custom ad blocker rule(s) and the page will load as expected.